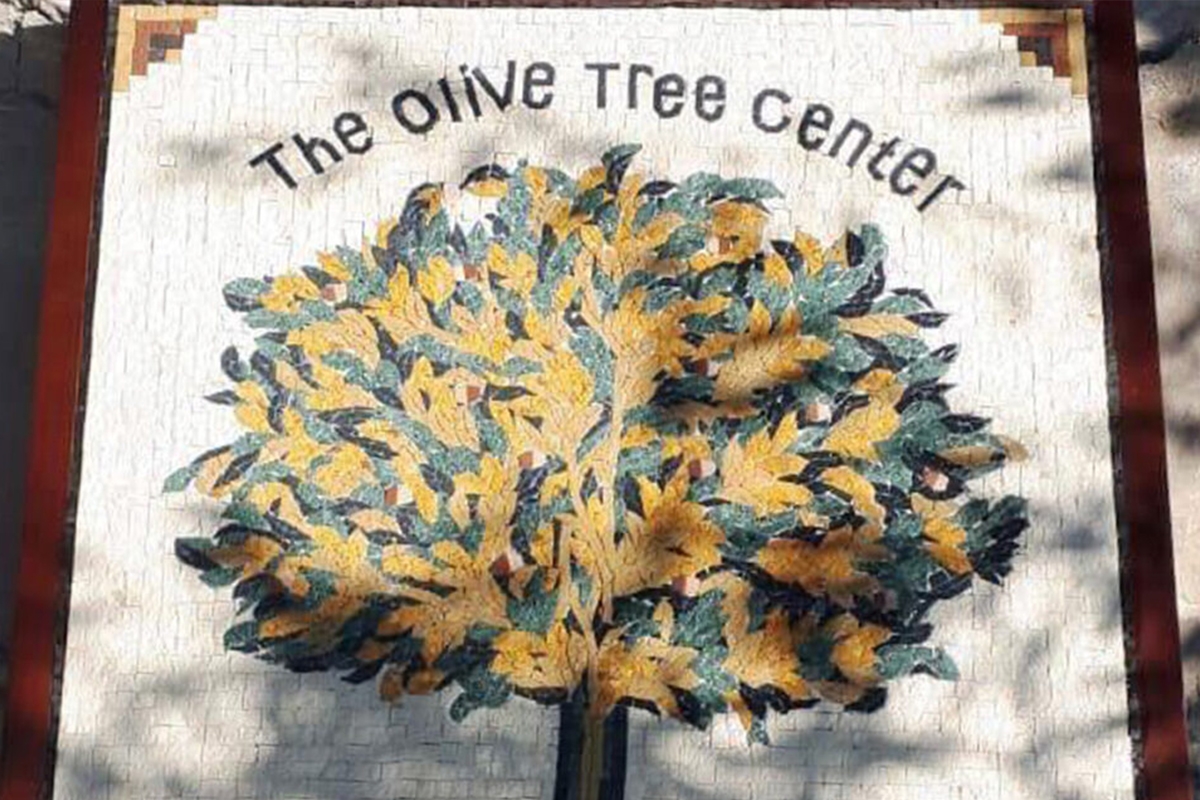 Young Iraqi women from our Olive Tree Centre in Jordan have come up with a wonderful idea for tackling the isolation and mental health issues arising from the Coronavirus lockdown. They set up an online group called 'The Hope', accessible from mobile phones.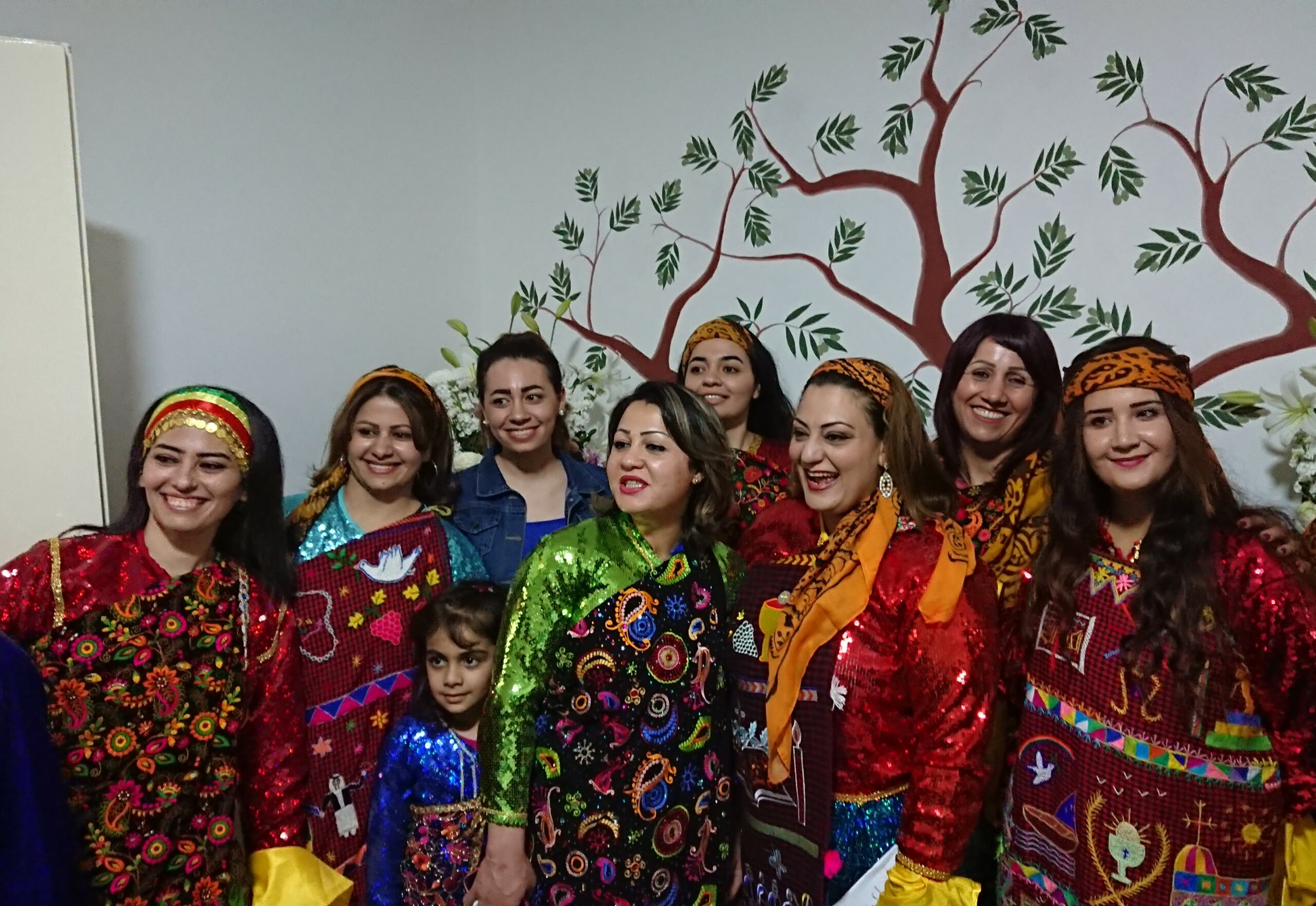 The photograph above was taken on the evening of the Centre's opening last October. The costumes are hand-made from the Iraqi Christian tradition. Riveen, on the right, who made the mosaic for the centre, is part of The Hope group.
Riveen, Raneen, Fada, and Karmen are the four remarkable, young Iraqi refugee women who created "The Hope". It is a support, prayer, and English language conversation practice group. Members are aged from 16-32 years. It is a platform to encourage, listen, and pray during these challenging COVID-19 times.
The Olive Tree Centre had to temporarily close it's doors due to the government mandate on March 15th. But we will not be beaten by the virus! Instead we are working creatively to find new ways to provide: 'hope, help and healing'. The aim is to establish a virtual Olive Tree Centre. Using the internet and providing refugee families with mobile phones and web access packages, we will link people together. With the help of our supporters we plan to deliver online educational classes, music and a wide range of therapy sessions.
As the weeks continue to unfold across the world, we are all faced with adapting to 'a new normal' of severely limited freedoms. For many people fear, anxiety, panic, claustrophobia, and depression have bubbled to the surface. Mental health struggles and the need for extra support are vast. Encouragement and positivity is needed more than ever.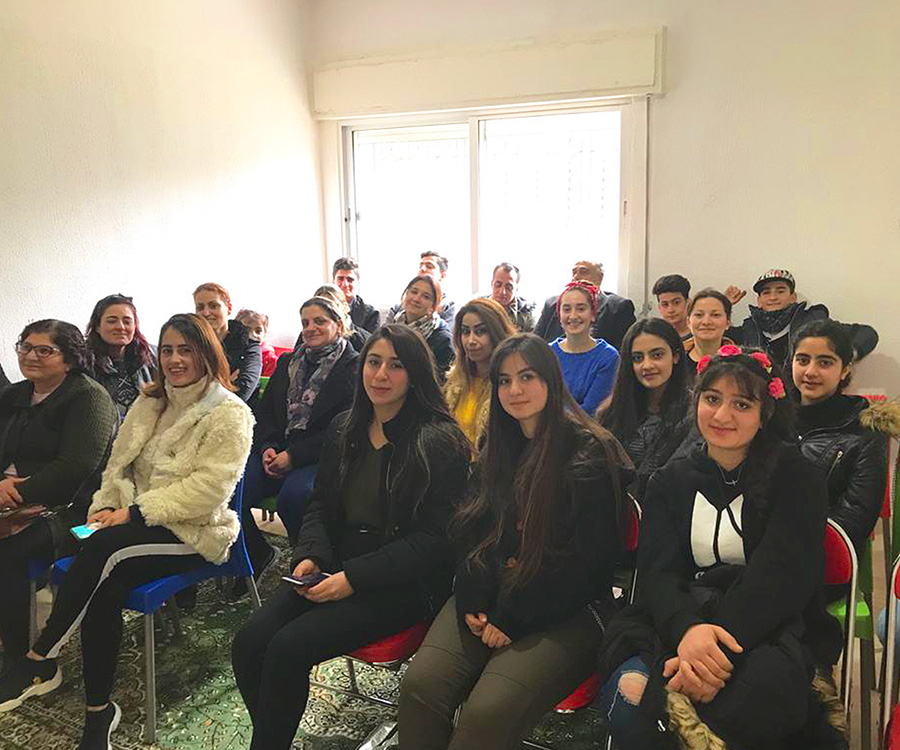 The thousands of refugees we support in Jordan have experienced much hardship and trauma in their lives. Remarkably, many of the most vulnerable are meeting these new obstacles with resilience, patience and faith. They truly embrace and rely on the power of prayer.
I am constantly struck by the strength of these young women and others within the refugee communities who Mosaic Middle East support. Their lives have been made even worse by the virus. This includes the complete lockdown of multiple families together in extremely cramped accommodation. Access to food and medicine are limited to charitable and church support. Yet they remain hopeful, positive, and more committed than ever to their faith.
Raneen's Story
Raneen (in the white coat above) is one such example of this. She is originally from Qaraqosh in the Nineveh Plain of northern Iraq. Her family was separated when ISIS invaded in 2014. Raneen fled with her mother and younger sister to Erbil and lived in a camp. Then in 2017 they made their way to Jordan as refugees. She was separated from her husband and brothers and has been trying to join her husband in America for years. However the situation has been very difficult.
She recently asked the prayer group to pray that her application for immigration to America would be accepted. She received news yesterday that after all this time she's been approved. She referred to it as a "Mercy Miracle". Raneen never gave up trying, despite one hardship after another. She never stopped praying and believing.
New Hope
This week, following Easter in the western calendar and preceding the Orthodox Easter this Sunday, a wave of positivity and renewed hope is moving through Jordan. Big grocery stores and other shops reopened (if temporarily). Flowers are blooming. Slowly we see small changes that will make daily life much more manageable. Hope is in the air. It's encouraged me to take a step back and not let the fear of the unknown cause anxiety. I am encouraged and supported by the community around me. Even when we are socially distanced, hope, love, and the power of prayer can make a profound difference.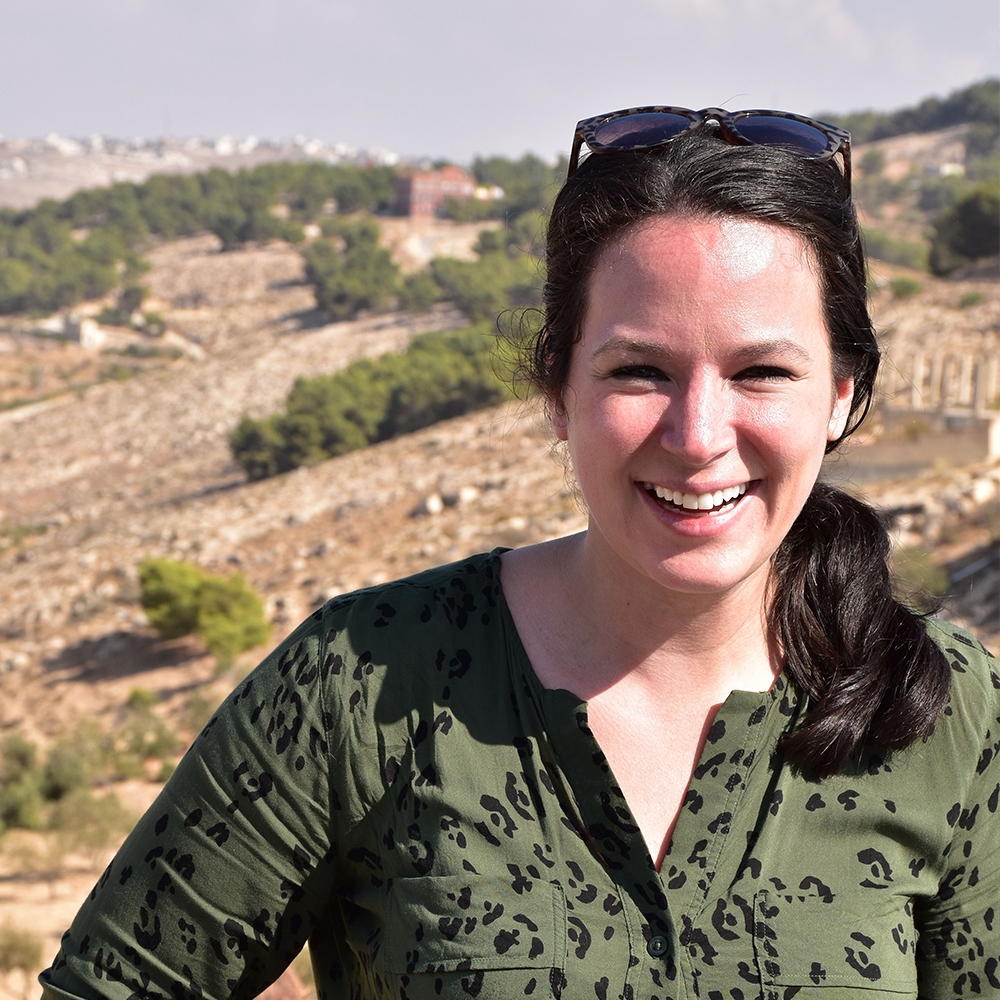 Our response to the Virus
How can you help?
We want to do all we can to encourage and support those who are in such need. With the 'virtual Olive Tree Centre' and 'The Hope' group we have something really positive to offer the thousands of refugees we are helping here. 
Thank you for your interest and support,
Helena Scott, our Jordan Country Director
Pray: Please pray for the development, protection and inspiration of this group as they move forward. We are providing them with resources, encouragement and guidance, but we want these young women to be the leaders.
Donate: We need $12,000 to buy 40 modest mobile phones, internet packages and to pay small fees for classes and therapy sessions. This is the first pilot and if all goes well we will expand it to much larger groups. If you can help please click on the donate button below...
Donate
Your donation makes all the difference to the work on the ground
Donate Now
Posted by Mosaic Middle East